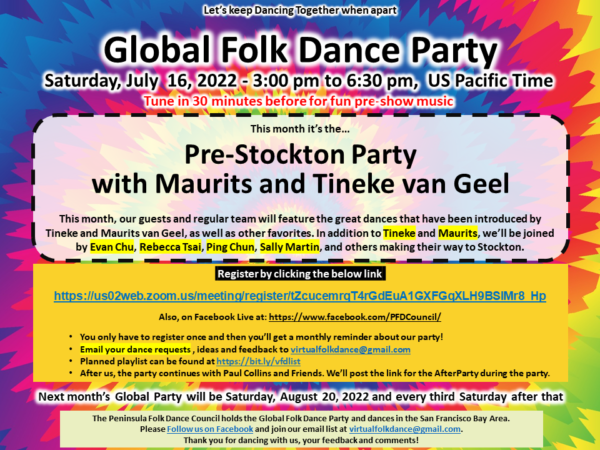 Global Folk Dance Party – Third Saturday
We want to let everyone  know about some updates, all positive for the Global Party.
— New Zoom number – Due to our zoom bombing last month, we're changed Zoom numbers. Here's what you need to do:
Click on this link to register.
You'll get an email from Zoom with your link for the Global Folk Dance Party.
Feel free to share the above registration link with your friends, they'll get their own link to join.
— Reminder email on day of party – With the new registration, you'll get a reminder email the morning of the Global Folk Dance Party, so you don't have to look for your link.
— Email us if you would like us to register you – Please write to this email if you'd like us to register you; we'd be happy to help and make it easy for you.
— This month's party – We're excited that this month's party is Pre-Stockton, featuring Maurits and Tineke van Geel. A lot of us will be at Stockton and dancing from there, with others in different locations. We look forward to a fun night with all of you. I've attached the flyers, thanks for sharing with your friends!
— Thank You – As always, thank you for coming to our party and sharing your day with us. We look forward to continuing our parties with all of you on the third Saturday of each month.
–Please see flyers and also tentative playlist!
–Join the fun at 2:30pm for pre-show music by Murray and Randi Spiegel
As always, please send your questions, ideas, or requests to moc.liamg@ecnadkloflautriv,
Warmly,
The Global Folk Dance Team