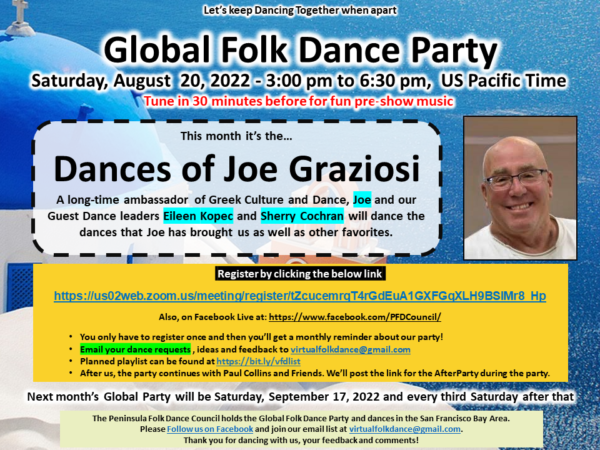 Global Folk Dance Party – Third Saturday
Come to our Global Folk Dance Party on Saturday August 20.   Afterwards join us for the after party hosted by Paul Collins and friends. See the flyers attached to this email, below, for details. Please note that only one of the flyers, the pdf version, has clickable links.  At this month's Global Folk Dance Party we're excited to feature the dances of Joe Graziosi.   Joe, along with the global folk dancing team, will lead dances.  We look forward to dancing with you on August 20 from 3:00pm to 6:30pm Pacific Time.
If you have any dance requests, please send them to moc.liamg@ecnadkloflautriv, along with any questions you might have. Alicia La Fetra and Lisa Michael will be happy to help (we are the communications branch of the Global Folk Dance Team).
Please see flyer and also tentative playlist!
See you soon on the Zoom dance floor,
The Global Folk Dance Team