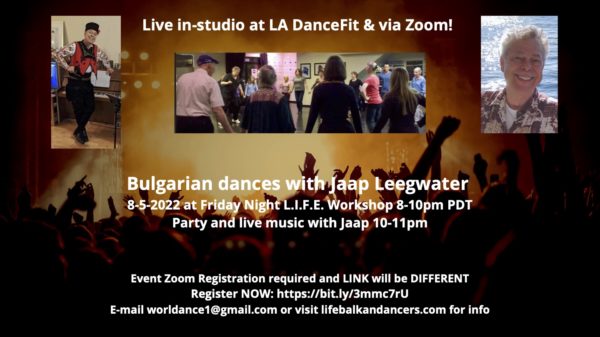 Jaap Leegwater will be with us this Friday, August 5,2022 for a
 Mega-Hybrid Dance workshop and party 
live 
in-person at the studio and broadcast on Zoom for workshop registrants. 
Jaap is planning to teach 6(six) new & old dances (including Lamba Lamba Kopanica) 8-10pm 
and will dance with us & may play some music live during the party 10-11pm.
Registration is free and quick. Jaap will have CDs for sale and has given me permission to make available a Digital Package with Music/Notes/Videos after our workshop for a donation of $15 or more.
We have arranged for live music at the studio and via Zoom with Chris Bajmakovich on August 12th, 2022. We would love to dance with you and Chris!!  Chris has an extensive repertoire. More details to follow!!!
Thanks 
to my fabulous volunteer team of Laurie, Asako, Joan, Marty, Faith & Jim in-house, with Michael & Evan doing remote soundchecks with me. We will have the Giant Screen for both events so the artists will truly feel your presence!
Here's our weekly Zoom sign-on information again: 
Join Zoom Meeting 
Be sure to update your Zoom account! 
Meeting ID: 604 669 711
Password: 409051
Here are additional details about our weekly sessions:
Friday Night L.I.F.E. 8-11pm (PDT) in-person at LA DanceFit ($10 weekly/$15 workshops) and via Zoom (donation):
LA DanceFit, 
10936 Santa Monica Blvd #4539, Los Angeles, CA 90025. (Enter through the back).
Covid protocols remain in place, as before. These measures have worked to protect us since we began meeting in-person:
  a)
 Please arrive "Fully Vaccinated" (
2 weeks after 2nd shot if 2nd shot was less than 6 months ago, or boosted).      
       b) Masks are required during participation (surgical or N95, KN95, or KF94).
  c) If you choose to hold hands, use sanitizer frequently.
       d) 
If you feel sick or have been exposed to someone diagnosed with Covid within the previous 2 weeks, please stay home. 
Note: 
Studio is equipped with HEPA filter & UVC light air cleaning systems to sanitize and improve the air quality. 
We require people joining us for the first time in person since we returned to in-person dancing to show proof of vaccination and signed studio Waivers. Remember to bring your own water bottle and snacks and leave your things in one of the cubbies, where you can grab them while off the dancefloor.
We believe streaming and hybrid events are here to stay. We strive to enhance the hybrid model and continue to dance with you all however we can! 
Our weekly Zoom sessions remain free, but, if you enjoy them, we encourage and so much appreciate contributions as you are able. Your donations go towards studio rent, Zoom fees, upgraded equipment & funding special mega-hybrid events (master teacher workshops & live music events): 
($10-15 suggested); for special events your donations go entirely to the artists. Let's show them some love!
H
ere is how: 
PayPal
 to 
worldance1@gmail.com
OR  just follow this link:
PayPal.Me/worldance1
; 
V
enmo 

@Sherry-Cochran-7

; 
please contact Sherry for assistance 
if you prefer to mail a check or use Zelle. 
We subsidize the studio as we can, especially when we can't be there.
Check out the special events, teaching, and dance videos on the Life Balkan Dancers YouTube channel at: https://www.youtube.com/user/LifeBalkanDancers/videos?view_as=subscriber;You will find teaching videos and other fun stuff posted frequently. Subscribe and hit the bell to be notified of new content.  It really helps our videos get to people who might be interested. We are happy to take requests for videos of specific dances. More new requests posted this week!
THANK YOU SO MUCH for your attendance, friendship, patience, and continued support! Hope to see you this Friday in the studio 
(or via Zoom). We have options!