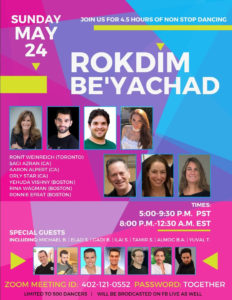 Get ready for Shavuot with a great night of dancing! Ronit, Sagi, Aaron, Orly, Yehuda, Rina, and Ronnie come together to put on an awesome program, with guest choreographers Michael, Elad, Gadi, Ilai, Tamir Scherzer, Almog, and Yuval! Plus, holiday greetings from many more Israeli dance figures.
How to Join
Wednesday, May 24, 2020
5:00-9:30pm Pacific (San Francisco)
Click here to find your time zone!
New York, USA Sun, May 24, 2020 at 8:00 pm EDT
Buenos Aires, Argentina Sun, May 24, 2020 at 9:00 pm ART
London, United Kingdom Mon, May 25, 2020 at 1:00 am BST
Paris, France Mon, May 25, 2020 at 2:00 am CEST
Tel Aviv, Israel Mon, May 25, 2020 at 3:00 am IDT
Melbourne, Australia Mon, May 25, 2020 at 10:00 am AEST
Zoom meeting: 402-121-0552
Password: TOGETHER