Dear friends,
ANAR DANA projects are still welcoming drop in visitors if you are a current or former member of ANAR DANA (if you aren't but have dance experience you can contact me about the option of drop ins). This way you can dance with your dance sisters anywhere in the world and brush up on some topic you may have done yourself, or learn something you always wanted to.  To that end, in the calendar below I have listed which dances we will be working on on each day through the end of the year.  In the second half of December I will be taking a break to take care of my family. Drop-ins are $55 for one unit (ie one day including the Awaken Your Dancing Body! class of that day.)  We hope to see a lot of old faces and also give the current dancers the chance to meet their fellow dancers in other locales.
For those of you who were interested in the new workshop series on Music Mapping: I'm sorry I dropped the ball.  I have been overwhelmed with what I am doing at the moment.  BUT, I will do this workshop…probably with more planning in January, so please stay tuned!!! I'm quite excited about how many of you contacted me with strong interest in this series!
About the proposal: How to understand the structure of different types of music and map it out as a dancer…understanding the rhythm, the musical phrases and envisioning the composition as a whole.  How to "see" the music in order to choreograph or improvise better.  This will be a small group of minimum of 5 participants.
ed.neskire-eneleh@liam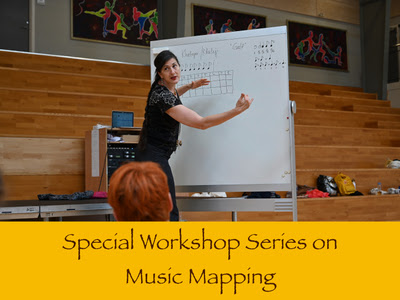 We continue  the ANAR DANA Community classes Awaken Your Dancing Body! every Saturday and Sunday am 10 am PDT  Anyone is welcome to join us for this hour of meditative body awareness and movement training.
Cultural Talks: We still have a few Cultural Talks this year.  Coming up this Sunday is an ANAR DANA talk on Azerbaijani Yalli dances Oct. 25th.  December 4th I am thrilled to welcome special guest speaker Abdu Samadov in Samarkand, Uzbekistan to talk to us Uzbekistan with his unique local, young and highly knowledgeable perspective.
On the Pomegranate Garden Dance platform in November I will do a Cultural Talk and short workshop on the regional dances from Assyria.  We will take a break in December and be back with new energy in the new year.
www.pomegranategardendance.com
I am so excited and grateful about our new community tools on the ANAR DANA Patreon Page.  We have new material every month: performance videos of ANAR DANA and of me as well as several videos of Cultural Talks you may have missed or want to review. This Saturday we continue our monthly chats for our ANAR DANA family members.  If you would like to take part in this you can join Patreon or if you are already a member you can upgrade to family member to join us.
https://www.patreon.com/ANARDANA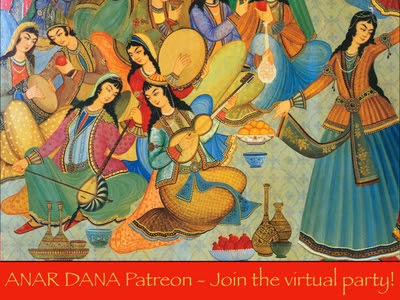 I look forward to dancing and exploring with you!
Helene
Time zones for your reference:
10 am PT (UTC-7) West Coast USA =
14:00 ART (UTC-3) in Argentina =
19:00 CEST/MESZ (UTC+2) in Western Europe
CALENDAR
Every Saturday & Sunday ongoing in 2020
10-11 PT (UTC-7)
Join the international ANAR DANA community class
Awaken Your Dancing Body!
Suggested donation is 5-15 Euros or dollars, we know it's difficult times so donate what you can and I will send you the link to join us! Please let me know which date/s you would like to join us. Men & children are welcome too!!!
DONATE on my website to register
www.helene-eriksen.de
OCTOBER 2020
Sat, Oct. 24, 2020
11am-1pm PT (UST-7)
ANAR DANA Seattle 9.a
Armenian Fresno Diaspora & Bosnian songs and dances
write to me to register: ed.neskire-eneleh@liam
Sun, Oct. 25, 2020
11:30am-1:30 pm PT (UST-7)
Cultural Talk on Yalli Dances of Azerbaijan
(With student presentation by BreAnn Walter Berry)
Suggested donation is $15 but donate what you can.
DONATE on my website to register
www.helene-eriksen.de
Sun, Oct. 25 2020
4-6 pm PT (UST-7)
ANAR DANA Seattle 9.b
Azerbaijani Yalli
write to me to register: ed.neskire-eneleh@liam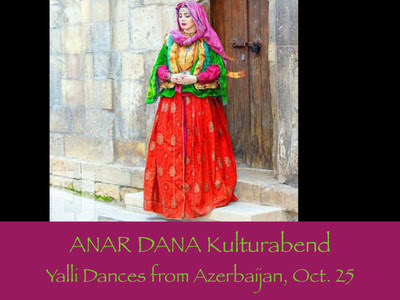 Sat, Oct. 31, 2020
11am-1pm PT (UST-7)
ANAR DANA Seattle 9.c
Bandari & Khalegi
write to me to register: ed.neskire-eneleh@liam
NOVEMBER 2020
Sun, Nov. 1, 2020
11am-1pm PT (UST-7)
ANAR DANA Seattle 9.d
Arab Andalusian Maluf & Sindhi Balochi
write to me to register: ed.neskire-eneleh@liam
Sat, Nov 7, 2020
11am-1pm PT (UST-7)
ANAR DANA SF Virtual 5.a
Russian Khorovod & Singing
write to me to register: ed.neskire-eneleh@liam
http://anardanasf.weebly.com
Sun, Nov. 8, 2020
11am-1pm PT (UST-7)
ANAR DANA SF Virtual 5.b
Uzbek Bokhara & Armenian Fresno Diaspora
write to me to register: ed.neskire-eneleh@liam
http://anardanasf.weebly.com
Sat, Nov 14, 2020
11am-1pm PT (UST-7)
ANAR DANA SF Virtual 5.c
Čoček & Khalegi
write to me to register: ed.neskire-eneleh@liam
http://anardanasf.weebly.com
Sat, Nov. 14, 2020
4-6pm PT (UST-7)
ANAR DANA Seattle 10.a
Arab Andalusian Maluf
write to me to register: ed.neskire-eneleh@liam
Sun, Nov. 15, 2020
11am-1pm PT (UST-7)
ANAR DANA SF Virtual 5.d
Azerbaijani Yalli & Sahraoui
write to me to register: ed.neskire-eneleh@liam
http://anardanasf.weebly.com
Sun, Nov. 15, 2020
4-6pm PT (UST-7)
ANAR DANA Seattle 10.b
Bosnian songs and dances & Sindhi Balochi
write to me to register: ed.neskire-eneleh@liam
Sat, Nov. 21, 2020
11am-1pm PT (UST-7)
ANAR DANA Seattle 10.c
Bandari & Khalegi
write to me to register: ed.neskire-eneleh@liam
Sat, Nov. 21, 2020
3-5 pm PT (UST-7)
Cultural Talk on Assyria
Pomegranate Garden Dance
You can visit the Face book page HERE to read about the whole project and see the incredible line-up of teachers. You can see the whole schedule and register for my Assyrian Cultural Talk here:
https://www.pomegranategardendance.com
Sun, Nov. 22, 2020
11am-1pm PT (UST-7)
ANAR DANA Seattle 10.d
Azerbaijani Yalli & Armenian Fresno Diaspora
write to me to register: ed.neskire-eneleh@liam
Sun, Nov. 22, 2020
3-5 pm PT (UST-7)
Mini Workshop on Assyrian Dance
Pomegranate Garden Dance
You can visit the Face book page HERE to read about the whole project and see the incredible line-up of teachers. You can see the whole schedule and register for my Assyrian Workshop here:
https://www.pomegranategardendance.com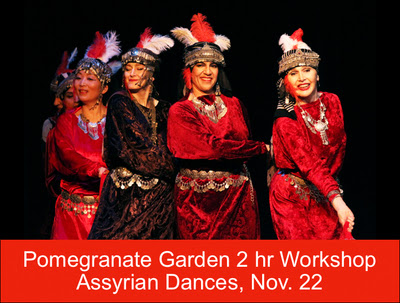 Sat, Nov. 28 2020
11am-1pm PT (UST-7)
ANAR DANA Germany 9a
Assyrian & Armenian Uzundara
write to me to register: ed.neskire-eneleh@liam
Sun, Nov. 29, 2020
11am-1pm PT (UST-7)
ANAR DANA Germany 9.b
Eskişehir Spoon dances & Algerian Chaoui
write to me to register: ed.neskire-eneleh@liam
DECEMBER 2020
Fri, Dec. 4, 2020
10am-12pm PT (UST-7)
Cultural Talk on Uzbekistan with Special Guest Speaker Abdu Samadov
Please register on my website: www.helene-eriksen.de
Sat, Dec. 5, 2020
11am-1pm PT (UST-7)
ANAR DANA Germany 9c
Uzbek Ferghana & Romanian Crihalma
write to me to register: ed.neskire-eneleh@liam
Sun, Dec. 6, 2020
11am-1pm PT (UST-7)
ANAR DANA Germany 9.d
Persian Qajar
write to me to register: ed.neskire-eneleh@liam
ed.neskire-eneleh@liam
www.helene-eriksen.de