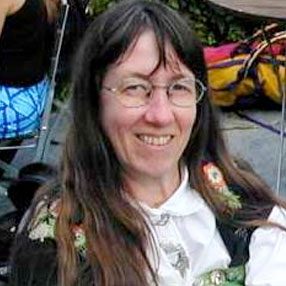 Alix Cordray
Norwegian Dance Workshop
Saturday, October 31, 2020 – 2:00-4:00pm EDT
Online via Zoom
To benefit the Folk Arts Center of New England
Alix Cordray is an active Norwegian dance instructor in Oslo and gives numerous workshops. Alix grew up in international folk dancing (especially Balkan) in the San Francisco Bay Area of California. She danced in and later directed Westwind International Folk Ensemble, and taught at the Mandala folk dance coffee house in San Francisco.
Alix moved to Norway in 1975, where she has gradually focused more and more on Norwegian dance. Starting in 1977, she has toured the United States teaching Norwegian dance many times.
Program options
Norwegian song dance Per Spelemann
Halling (men's acrobatic solo dance)
Solo vestlandsspringar (short choreography of springar steps)
Kørsdans (dance over two crossed sticks)
Line dances of Norwegian steps
Children's dances (barnemasurka or barnereinlender)
→Join this workshop via Zoom by activating this link
Visit What you need to join to set up your computer or device to join the workshop online.
Please donate generously to FAC and help us through this period of social distancing when all of our events are postponed. We suggest a $10 minimum for attending this workshop but any and all contributions will be greatly appreciated. Thank you for supporting the Folk Arts Center of New England!