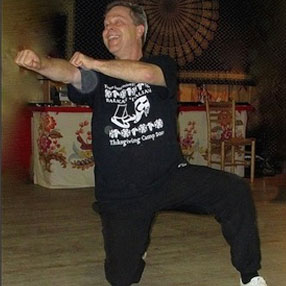 Bulgarian Dance Workshop
with Jaap Leegwater
Saturday, November 7, 2020 – 2-4pm EST
Online via Zoom – To benefit the Folk Arts Center of New England
Jaap is known worldwide for his fun teaching and having introduced dances including Karamfil, Dobrudžanska Pandela, and Mari Marijko. He began his dance careeer in The Netherlands, where he earned one of his degrees in international folk dance, specializing in Bulgarian folk dance and choreography. Jaap studied at the State Choreographer's school in Sofia and Plovdiv, living there for two years; he regularly returns to Bulgaria to update his studies and make new recordings.
Accompanying Jaap will be accordionist Jan Wollring. Jan was the regular accompanist of Bulgarian singer Galina Durmushliyska during the years she lived in the Netherlands.
→Join this workshop via Zoom by activating this link.
Visit What you need to join to set up your computer or device to join the workshop online.
Please donate generously to FAC and help us through this period of social distancing when all of our events are postponed. We suggest a $10 minimum for attending this workshop but any and all contributions will be greatly appreciated. Thank you for supporting the Folk Arts Center of New England!