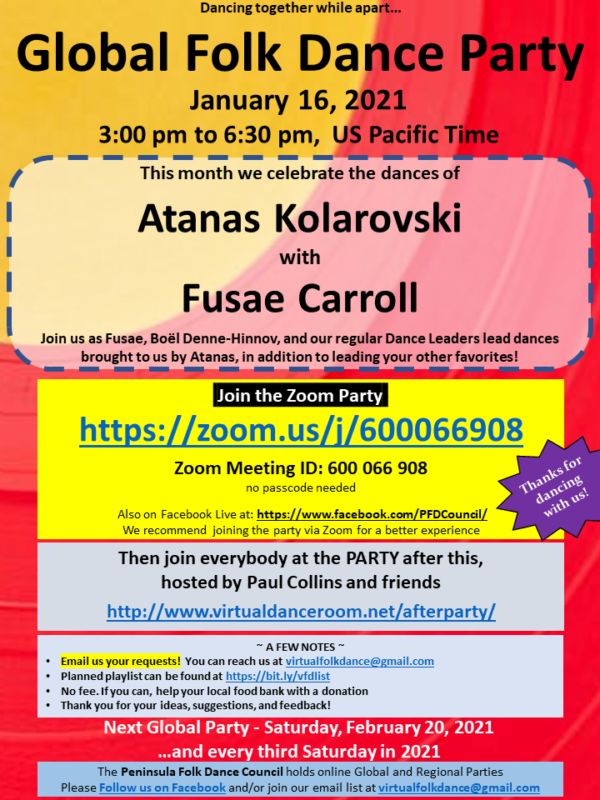 We made it to 2021! Time to celebrate with a dance party
Date: Saturday, January 16, 2021
Times: 3:00pm to 6:30pm, Pacific Time Zone, check google to see what time it is where you live
Where: Online using Zoom, https://zoom.us/j/600066908
Information on Facebook is here.
Flyer here with working links.
We made it – it's 2021.   So….. time for a dance party!   We hope to see you on Saturday January 16 from 3:00-6:30pm US Pacific time. We will be celebrating the dances of Atanas Kolarovski with Fusae Carroll.   The after party will be hosted by Paul Collins and friends.  Please see the attached flyers for further information.  Please reply if you have any  dance requests and/or any questions.   Alicia La Fetra, Lisa Michael and Stacy Rose will be happy to answer anything you need to know about our dance party, we are the communications branch of the Global Folk Dance Team.We look forward to a lovely party on January 16.  Hope to see you there.
Warmly,
The Global Folk Dance Team
AFTERPARTY
Then.. join everybody at the Party right after this!!
Hosted by Paul Collins and friends
http://www.virtualdanceroom.net/afterparty/
A FEW NOTES
Email us your requests! You can reach us at

moc.liamg@ecnadkloflautriv

Planned playlist can be found at https://bit.ly/vfdlist
No fee. If you can, help your local food bank with a donation.
Thank you for your ideas, suggestions, and feedback!
Next Global Party Saturday, February 20, 2021
…and every third Saturday in 2021