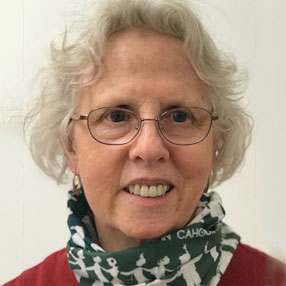 Saturday, January 16
2:00 – 4:00pm ET
Scandinavian Dances for Covid Times with Roo Lester
Some find Scandinavian music and dance to be lyrical and flowing. Others find it to have drive and passion. Come on Saturday and decide for yourself.
Join us for some non-partner, Covid-friendly dances to lovely and fun Norwegian and Swedish music. All of the dances can be done in spaces – small or large, carpeted or not – with limited turning. For more information about Roo and her workshop visit the event page.

Thursday, January 21
7:00 – 8:30pm ET
FAC Game Show: Souvenir Sleuth
We are excited to present the first-ever FAC Game Show: Souvenir Sleuth, in which teams compete to identify souvenir objects acquired by FAC friends in their travels. Visit the event page for more details.
There are multiple ways to enjoy the evening. Submit a souvenir and tell its story! Participate as a team member and play the guessing game! Watch from the audience and swap travel stories!
To be on a team, send your name to

gro.enocaf@emag

and we'll randomly assign you to one.
To submit a souvenir you think will stump the teams, send a photo and brief description to

gro.enocaf@emag

.
Will there be prizes? Maybe. There will NOT be a new car under your seat, however.

Sundays, January 17, 24, 31
5:00 – 6:00pm ET
Dance Around the World – Virtually!
with Marcie Van Cleave
The Folk Arts Center of New England, the Stoughton Cultural Council, and SDIO/Stoughton Diversity & Inclusion Organization are combining forces to bring us together virtually in a community dance on three Sunday afternoons.
Leave your cares behind, and enjoy the music and movement of cultures from around the world. Everyone is welcome, and the dances we will share are appropriate for everyone.
Bring your fellow pod members and join us at 5:00 this Sunday for a free hour of fun, laughter and exercise! We look forward to seeing you on Sunday!

More Upcoming Fun!
Saturdays: (2:00-4:00pm ET)
January 23: Dance Classes in partnership with Stockton Camp with Vlasto Petkovski (Macedonian dance) and Aaron Alpert (Israeli dance)
January 30: Konversations and Kolos with Kotansky with Steve Kotansky
February 6: Déjà Vu Review
SOFA Thursdays: (7:00-8:30pm ET)
February 4: Crafters Panel with Susan Lind-Sinanian (Armenian embroidery), Liz Levin (Balkan embroidered clothing), Regina Laskowski (Polish wycinanki)
February 18: Hungarian Cooking with Dénes Takácsy
March 4: Singalong with Matt & Joan Shear