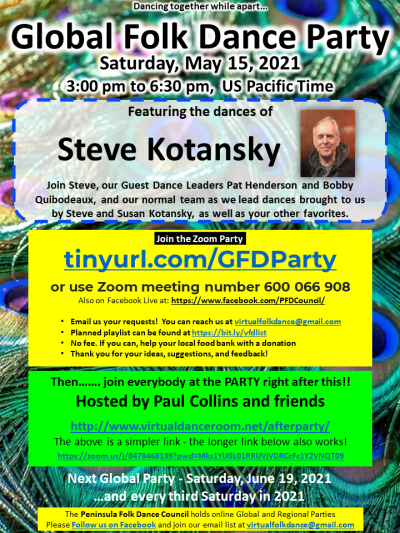 Global Folk Dance Party – Third Saturday
On May 15th, we will be having our Global Folk Dance Party, this month being joined by Steve Kotansky with a focus on dances we've learned from Steve and Susan. In addition, two of our friends from Florida, Pat Henderson and Bobby Quibodeaux, will be dancing from their home studio, with maybe a small group of friends dancing with them!
Info about our May Global Party is:
Date – May 15, 2021
Time – 3:00 pm to 6:30 pm, Pacific Time
Links – See flyer for zoom info. Also broadcast on Facebook Live.
We look forward to dancing with you this month. Please continue to send us requests, ideas, and comments on our parties; we read every message you send us.
Information on Facebook is here.
Flyer here with working links.