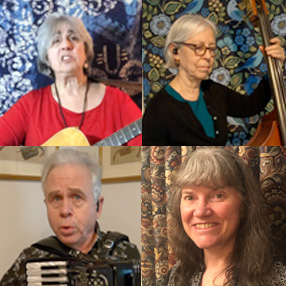 Online Dance Party with the Pixton Poirier Trio
Saturday, Sept 18, 2:00 – 4:00 EDT
Online via Zoom – To benefit the Folk Arts Center of New England
$10 is suggested but any amount is appreciated
More details and Zoom link here.
About the Party
FAC's online Saturday afternoon workshop will be an all-live music dance party, hosted by Janet Yeracaris, with music by the Pixton Poirier Trio. Dances will be led by Boston-area dancers.
The trio consists of some of Boston's favorite musicians, Tom Pixton, Barbara Pixton, and Julia Poirier. The trio recently spent a wonderful week at Mainewoods Dance Camp with teachers Tom Bozigian and Michael Ginsburg.
Visit "What you need to run Zoom", to set up your computer or device to join the workshop online.
Donate to FAC
Donations support these events, artists, and the Folk Arts Center. We suggest $10 for online workshops, although any amount is appreciated.
Visit our donation page for links to various donation options including:
PayPal – donating to FAC as "friends and family" will avoid PayPal fees
Venmo- our account is: @Folk-ArtsCenter
Checks – mail to:
Folk Arts Center of New England
10 Franklin Street
Stoneham, MA 02180-1862
Thank you for supporting the Folk Arts Center of New England!