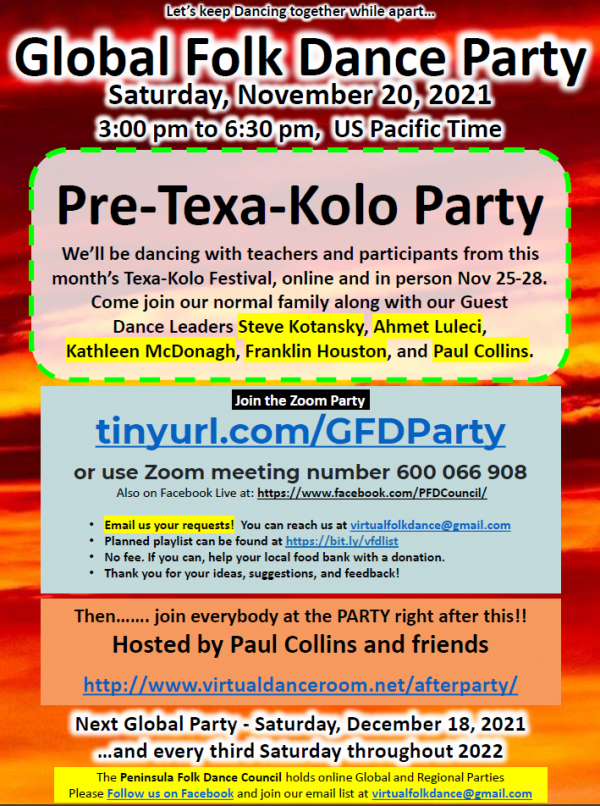 Global Folk Dance Party – Third Saturday
We'll be dancing with teachers and participants from this month's Texa Kolo Festival, online and in person Nov 25-28.
Come join our normal family along with our Guest Dance Leaders:
Steve Kotansky
Ahmet Luleci
Kathleen McDonagh
Franklin Houston
Paul Collins
Info about our November Global Party is:
Date – November 20, 2021
Time – 3:00 pm to 6:30 pm, Pacific Time
Links – See flyer for zoom & contact info. Also broadcast on Facebook Live.
Join the Zoom Party – tinyurl.com/GFDParty
or use Zoom meeting number 600 066 908
Also on Facebook Live at: www.facebook.com/PFDCouncil/
Email us your requests! You can reach us at moc.liamg@ecnadkloflautriv
Email us your requests! You can reach us at

moc.liamg@ecnadkloflautriv

Planned playlist can be found at https://bit.ly/vfdlist
No fee. If you can, help your local food bank with a donation.
Thank you for your ideas, suggestions, and feedback!
Warmly,
The Global Folk Dance Team
We look forward to dancing with you this month. Please continue to send requests, ideas, and comments on our parties; we read every message you send.