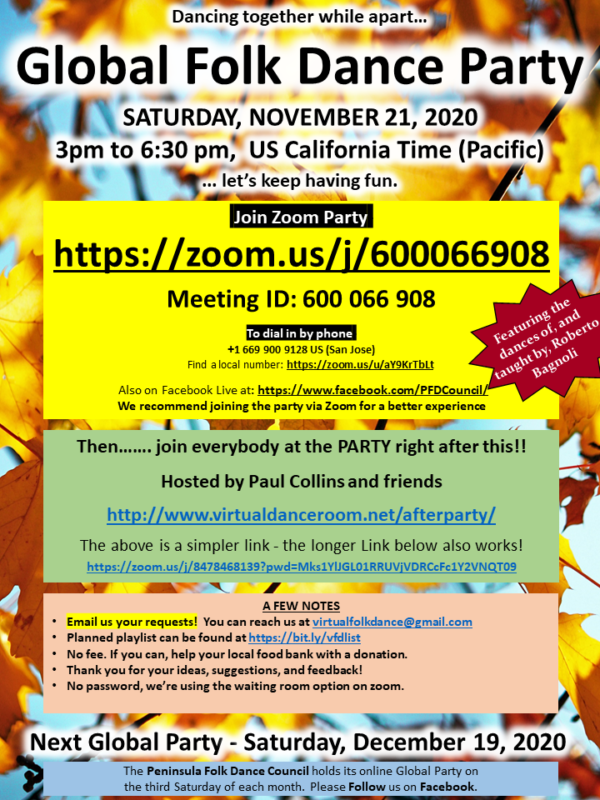 Global Folk Dance Party is tomorrow!
Date: Saturday, November 21, 2020
Times: 3:00pm to 6:30pm, Pacific Time Zone, check google to see what time it is where you live
Where: Online using Zoom, https://zoom.us/j/600066908
Information on Facebook is here.
Flyer here with working links.
For this party, we're going to feature some dances from, or taught by, Roberto Bagnoli!
Each Dance Leader will lead 1 or 2 dances taught or choreographed by Roberto, along with plenty of your requests and our normal program.
Let us know what dances you'd like on the program and thanks for spreading the party info!
Zoom id: 600 066 908
Then.. join everybody at the Party right after this!!
Hosted by Paul Collins and friends
http://www.virtualdanceroom.net/afterparty/
Email us your request! You can reach us at moc.liamg@ecnadkloflautriv
Planned Playlist can be found at https://bit.ly/vfdlist
No fee. If you can, help your local food bank with a donation
No password, we're using the waiting room option on zoom
….let's keep having fun