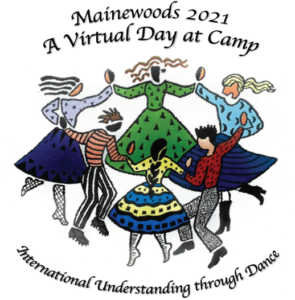 Mainewoods Dance Camp
Just one week away!
A Virtual Day at Camp
Saturday, February 13, 2021
beginning at 11am EST
Meeting ID: 869 9258 6607
Passcode: 257715
There's loads of dancing!
3 workshops, a review, an evening party and late night dancing!
Send us 2 or 3 dance requests for the evening Dance Party and/or Late Night Dancing.
dancerequests@mainewoodsdancecamp.org
and more ways to have fun:
A culture corner, Singing and making music, and cooking!
Sing and play along to Dobra Nevesco, Opincuta, and Tragnala Rumjana with Debby Szajnberg. The link to the music is
www.mainewoodsdancecamp.org/Music.pdf
Make a Romanian dinner with recipes from our chef, Riki, who has offered many recipes for your Virtual Day.
www.mainewoodsdancecamp.org/RomanianRecipes.pdf
and even more ways to have fun!
Make a video of a folk dance being done in snow shoes or swim fins. Be creative! Any folk dance will do but you will get extra points for including a grapevine. Videos due ASAP. Copy your video into this folder.
Chat with folks in dinner time breakout rooms. We'll create new breakout rooms for each course, so you can choose whether to come for Mocktails and Cocktails, Main Course, Dessert, or all three. If you've never experienced a Zoom dinner with friends, this is a great time to start!
(And a great time to try one of Riki's recipes.)
Come and go as you like.
The entire day is FREE.
Donations to the featured guests appreciated. www.mainewoodsdancecamp.org
Dance Workshops:
Sonia Dion & Cristian Florescu (11:00)
Erica Goldman (1:30)
Advanced Workshop (3:00)
Caspar Bik (International)
Romanian Culture Corner (12:30)
Sonia Dion & Cristian Florescu
Singing Class (4:30)
Debby Szajnberg
Breakout Rooms for Socializing
Cocktails and Mocktails (6:00), Main Course (6:30) Dessert (7:00)
Once Over Lightly (7:30)
Reviews with our featured guests
Dance Party (8:30) with Live music (9:30)
Pixton Poirier Band and Friends
Late Night Dancing! (11pm EST – ?)
Registration encouraged but not necessary.
For a more detailed schedule please
Visit our Website
We look forward to seeing you on February 13!