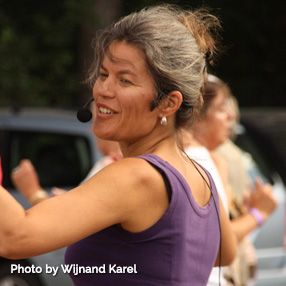 Saturday, February 20: 2–4:00pm EST
Online via Zoom – To benefit the Folk Arts Center of New England
Sibylle Helmer has been teaching for more than 30 years in the international folk dance world, especially in the Netherlands but also in Belgium, England, Austria, Italy and Canada. She attends workshops of various teachers at home and abroad in order to keep up with the latest developments and continuously increase her knowledge. With her foundation Dansevent.nl, she organizes workshops, courses and festivals in the Netherlands with teachers from the Netherlands and abroad.
After her studies to become a French and Dutch language teacher, she stayed for six months in Paris as an au-pair. It was there where she first encountered Breton music and dance. Many summers after that, she went to Brittany for courses and festivals and thus her first specialty, Breton dance, was born.
Since 2010 she has been going to Albania regularly to learn more about that country's dance, culture, history, and language. And so now she has developed her second specialty: Albanian dance. This week's workshop will feature dances from both Brittany and Albania.
Visit What you need to join to set up your computer or device to join the workshop online.
Donate on the FACONE website.
Please donate generously to FAC and help us through this period of social distancing when all of our events are postponed. We suggest a $10 minimum for attending this workshop but any and all contributions will be greatly appreciated. Thank you for supporting the Folk Arts Center of New England!