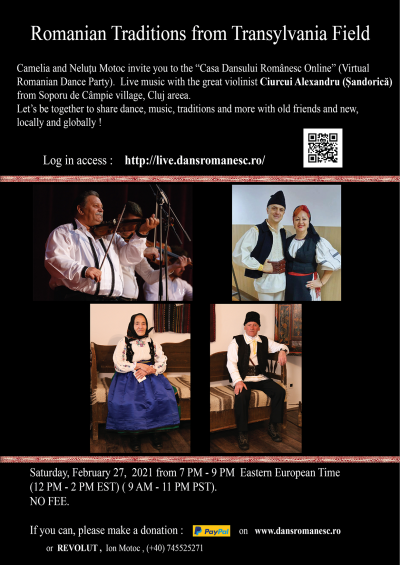 Camelia and Neluțu Motoc invite you to their Online "Casa Dansului Românesc" (Virtual Romanian Dance Party). Live music with the Band from Soporu de Campie – Cluj, featuring the great violinist Alexandru Ciurcui (Sandorica).
Let's be together to share dance, music, traditions and more with old friends and new, locally and globally!
Saturday, February 27, 2021 from 7 PM – 9 PM Eastern European Time
(12 PM – 2 PM EST) (9 AM – 11 PM PST)
This virtual dance event is FREE.
If you can, please make a donation with PayPal by visiting their website:
http://www.dansromanesc.ro/
Join us on Saturday, February 27, 2021 on
YouTube: http://live.dansromanesc.ro/
We can't wait to dance with you!
Fondly, Cristian and Sonia
www.soniacristian.net