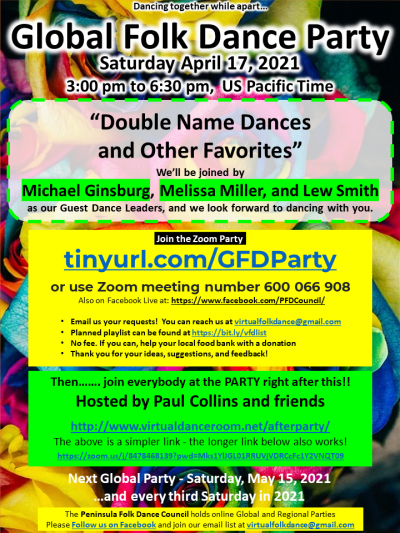 Dear Wonderful Folk Dance Community,
We will gather on Saturday, April 17, for a party we're calling "Double Name Dances and Other Favorites." Come find out what we've got in store!
For a sneak preview, here are a few of our dances: Galyam Galyam, Zek Zek Dadumle and Rum Dum Dum.
Our guest dance leaders will be Michael Ginsburg and Melissa Miller and Lew Smith – please see below for their biographies. To attend our party, please use the link on the flyer.
Get ready to have a dazzling time dancing with your friends, lifelong and new, near and far. Hope to see you there!
Here are the guest dance leader Bios:
Lew Smith started folk dancing in 1966 and led folk dancing at UCSB in the late '60's and at SJSU in the early '70's. Lew is also a member of the Balkan band Svirači.
Melissa Miller (aka Ghanima Gaditana) has been folk dancing since childhood, and teaches and performs belly dance in the Bay Area and beyond. She also performs regularly with the band Svirači.
Michael Ginsburg has always been interested in Balkan music and dances, especially Macedonian and Serbian. He is an expert in the complicated rhythms of Balkan music and has made several research trips to Bulgaria and the former Yugoslavia, and studied in Macedonia with Pece Atanasovski, with whom he made research tours of the country. Michael has been on the teaching staff of the Macedonian Pearl seminar in Berovo, Macedonia. Michael lives in Yonkers, NY.
Date: Saturday, April 17, 2021
Times: 3:00pm to 6:30pm, Pacific Time Zone, check google to see what time it is where you live
Where: See flyer for link
Information on Facebook is here.
Flyer here with working links.
Playlist here.