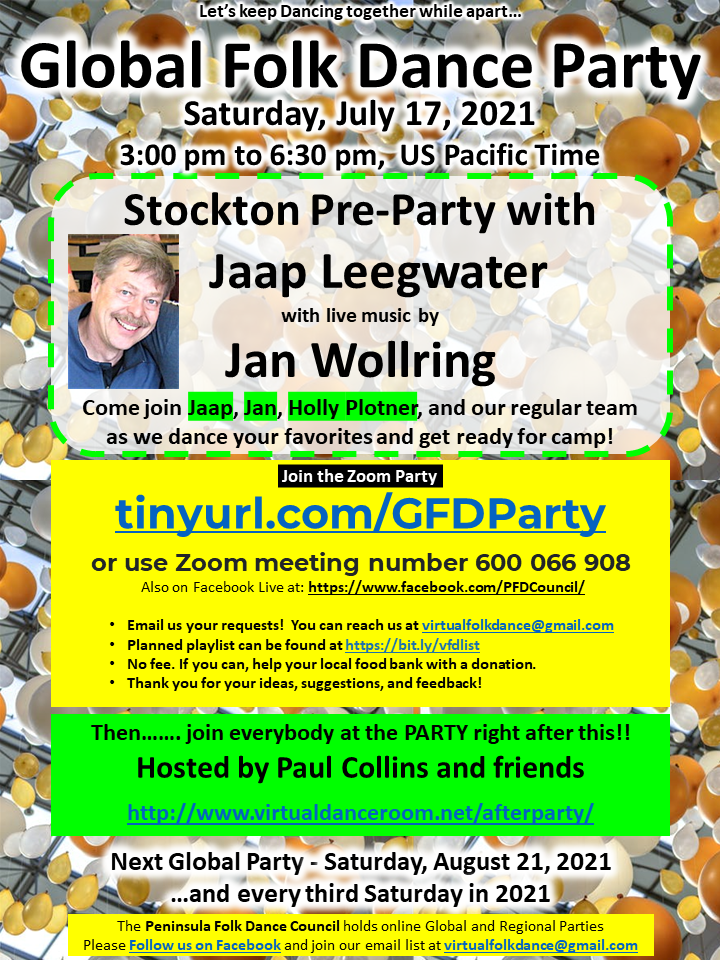 Global Folk Dance Party – Third Saturday
Come to our Global Folk Dance Party on July 17 as Jaap Leegwater (with live music by Jan Wallring) is our guest dance leader. Dances will also be led by Holly Plotner and our regular team. Following the party is an after party hosted by Paul Collins and friends.
Info about our July Global Party is:
Date – July 17, 2021
Time – 3:00 pm to 6:30 pm, Pacific Time
Links – See flyer for zoom & contact info. Also broadcast on Facebook Live.
If you have any dance requests, please send them to moc.liamg@ecnadkloflautriv, along with any questions you might have. Alicia La Fetra, Lisa Michael, and Stacy Rose will be happy to help (we are the communications branch of the Global Folk Dance Team).
We're all so excited about the upcoming virtual Stockton Folk Dance Camp and we're thrilled to have this pre-party in anticipation of it. We hope to see you there!
Warmly,
The Global Folk Dance Team
Jaap Leegwater has studied, preserved, choreographed, and shared international folk dance, particularly Bulgarian dance, for many decades. As one of the first non-Bulgarians invited to the State Choreographer's Schools of Bulgaria in 1969, and through his wide-ranging workshop experience and continued annual research visits to the country, he remains one of the foremost experts on Bulgarian folk dance and music in international folk dance.
We look forward to dancing with you this month. Please continue to send requests, ideas, and comments on our parties; we read every message you send.