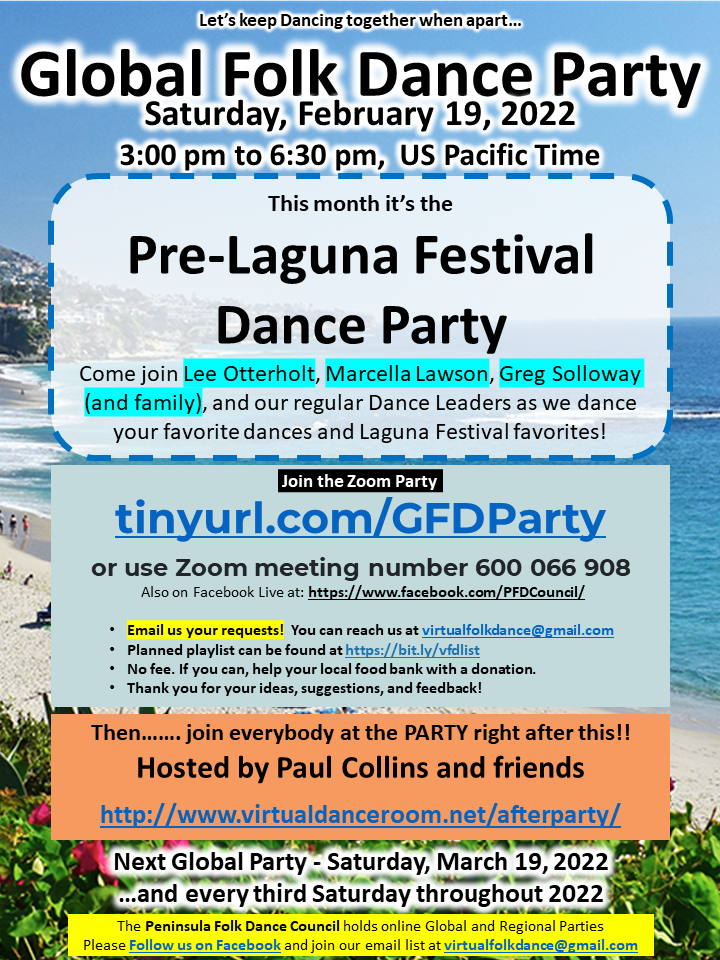 Global Folk Dance Party – Third Saturday
Dear Folk Dance Community,
Come to our Global Folk Dance Party on Saturday February 19 to get ready for the Laguna festival.  Join our guest dance leaders Lee Otterholt, Marcella Lawson, Greg Solloway and family, along with our awesome regular dance leaders for an afternoon of fun.   Also join us for the after party hosted by Paul Collins and friends.  See the flyers for details. Also see our playlist.
If you have any dance requests, please send them to moc.liamg@ecnadkloflautriv, along with any questions you might have. Alicia La Fetra, Lisa Michael, and Stacy Rose will be happy to help (we are the communications branch of the Global Folk Dance Team).
Info about our February Global Party is:
Date – February 19, 2022
Time – 3:00 pm to 6:30 pm, Pacific Time
Links – See flyer for zoom & contact info. Also broadcast on Facebook Live.
Join the Zoom Party – tinyurl.com/GFDParty
or use Zoom meeting number 600 066 908
Also on Facebook Live at: www.facebook.com/PFDCouncil/